Roccaraso
Although Roccaraso has its roots in medieval history, there is no trace left of those times as the town was completely destroyed by the retreating German army in 1943. Since then, it has been entirely rebuilt and today is a popular destination for skiers in the winter and for summer visitors to the beautiful National Parks nearby.
In addition to a lively town centre with its hotels, shops, bars and restaurants, facilities also include an ice stadium. There is a ski bus to run you to the slopes at Aremogna and Pizzalto.
Ovindoli
Today it is a popular destination for Italians in summer as well as winter when the slopes of nearby Monte Magnola open for business. The panoramic views from the town extend to snow covered mountains on either side of the high plain.
The town itself is about 3 km from the ski slopes and there is a scheduled bus service that runs between the two points. Ovindoli is located within the boundaries of the pristine beauty of the Sirente Velino Regional Park, a protected area of about 500 square kilometres/220 square miles.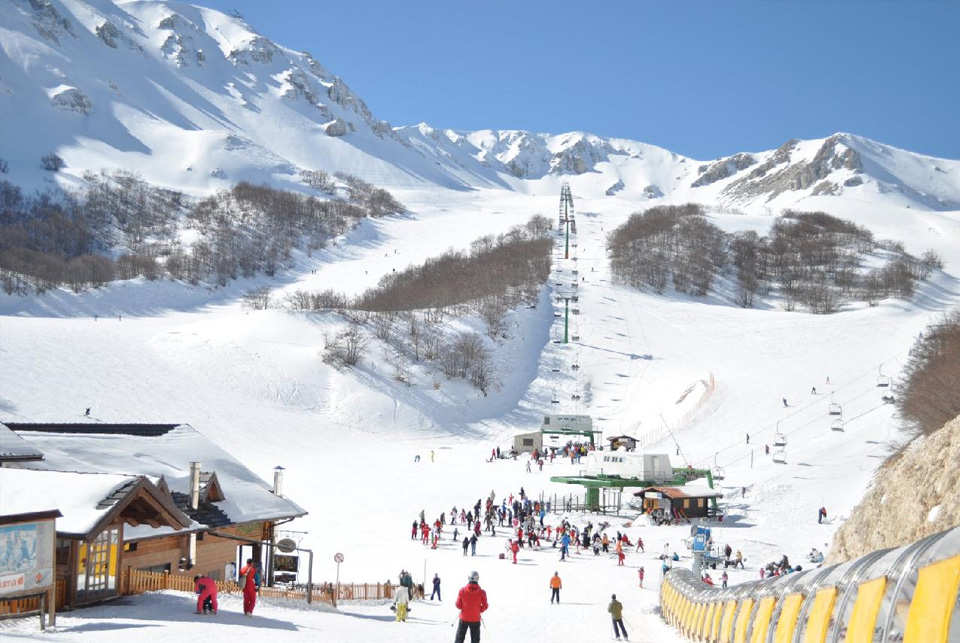 Campo Felice
There is one ski pass covering the two areas of Campo Felice and Ovindoli called the Ski Pass dei Parchi.
The wide Campo Felice base is gently sloping and is ideal for beginner skiers. Ski school meets here and a number of green and blue runs are accessible from the base area lifts.
Several intermediate runs (designated blue and red) fan across both sides of the mountain. The longest descent – Degli Innamorati – is a thigh burning 2.5 km.